As mentioned in a
previous post
, World Soccer named Ronaldinho the player of the decade. I argued that he is definitely the ugliest player of the decade, but not sure if he is the best footballer of the decade. So, for what it's worth, here is my list of the best players of the decade. It was hard making this list because I wanted to be somewhat objective, but these lists are ultimately subjective. In the end, the edge just goes to the player I like more, but I still tried to come up with some sort of criteria.
1. The player must have played for at least 7 seasons between 2000 and 2009. This alone eliminates a lot of players. For instance, Zidane only played professionally up until 2006, therefore he doesn't qualify for this list. SI.com named Zidane as their player of the decade. In my opinion, he is the greatest player to have played IN the decade, but not the greatest player OF just this decade.
(Speaking of Zidane, I watched
this video
again the other day. Just a fantastic video, except for the crappy music. Zidane was so fun to watch. If you are a soccer fan, you'll enjoy this video. If you aren't you should watch it to familiarize yourself with one of the greatest players ever, who is also pretty protective of his mother.)
2. They have to "play" during the year. Being on a team but only making 4 appearances on the field during the season doesn't really count.
3. I'm only dealing with the European leagues. This is mainly because I don't really know the leagues outside of Europe. However, it's pretty much a consensus that Europe has the best leagues and thus the best players in the world so it's unlikely anyways that there would be another player from other leagues that are better than the ones on this list. But it is possible.
4. I'm only dealing with forwards and midfielders. I'm not saying that these are the most important players on each team. Fabio Cannavaro was easily the backbone of Italy's World Cup win in 2006. It's just harder to quantify their impact and then compare it to other players. I know Iker Casillas is extremely valuable to Real Madrid, but I don't really know how to compare him to Steven Gerrard or Wayne Rooney. A true soccer guru could really break it down, but I'm no guru, so I'm sticking to attacking players because they have stats that are easier to compare against each other.
On with the List: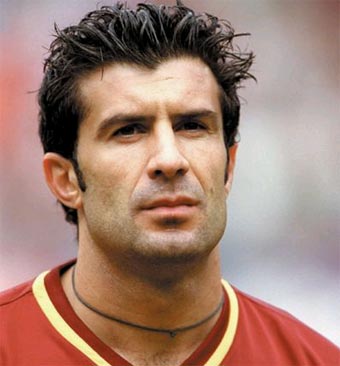 10.
Luis Figo
- Figo looks like he is from Jersey and walks around all day in a work out suit with a wife beater and gold chain. Unlike Zidane, Figo did last this entire decade playing at the top level. He retired last season at the age of 36. Granted, the last couple of years of his career he didn't do much. He basically makes the list because at the turn of the decade, he was easily one of the best midfielders and playmakers in the game. He just hit his prime at the wrong time and was fading for most of the decade.
9.
Michael Owen
- Poor Michael Owen. Few will forget his
1998 World Cup goal
for England against Argentina. He was completely dominating at the end of the 90s and the start of this decade. So much potential. Unfortunately he's about as
fragile as a lady bug
. The man just couldn't stay healthy. Despite all that, he has scored 111 League Goals this decade, including 23 Champions League goals; however only 28 of those league goals and 5 of the Champions League goals came after 05/06. It's a shame will never know what could have been.
8.
Raul
- The godfather of the Galacticos. Raul has never been one to wow you with his skills, but he finishes.
Here is
a classic Raul goal. It comes in the first 8 seconds of the video. Raul is the guy that bothers to follow up after the keeper picks up the ball. 499 times out of 500 the goalie handles the ball cleanly in that situation, but the 1 time the goalie mishandles it, Raul is the type of forward that is there to capitalize on the mistake. He's also an anomaly in Madrid these days. He came up through the Real Madrid youth system and actually made it into the starting 11. Real has discarded their youth system to pursue superstars. He's been around for the two waves of Galacticos. He doesn't get much playing time these days, but he's been the backbone and leader of the team for the entire decade.
7.
Wayne Rooney
- 92 total goals for Everton and Man U. Won the Premier League with Man U three years in a row between 2006-2009. Won the Champions League in 07/08. This season is why Rooney is on this list. It's hard to value the importance of a player on Man U because they almost always have a line-up full of all stars. So one could easily undervalue a player like Rooney because his supporting cast is so great. But Man U is old this year. They aren't nearly as good as years past and I think they only reason they are still in the title hunt is because of Rooney. The fact that they haven't dipped much this year with the loss of C. Ronaldo is a credit to Rooney and in my opinion shows how valuable he has been to this team throughout the decade.
6.
Ronaldinho
- There were a couple of years during the decade where Ronaldinho was king. Few disputed that he was the best player in the world. Then the 2006 World Cup happened and Ronaldinho shrunk away during the biggest tournament in the world. He also gained about 20 pounds and couldn't crack the starting 11 for AC Milan. He is finally starting to resemble the player he was earlier in the decade. Still, because he was practically worthless for a couple of years, I couldn't put him at the top of this list, even if he completely dominated for a few years.
5a. and 5b -
Lionel Messi, Cristiano Ronaldo
- These two miss out because of my criteria. Both are
so amazing
. If the decade was from 2005-2015, then I'm sure they would be 1a and 1b on this list. As it is, they both didn't play too much at the beginning of the decade so I couldn't put them at the top of this list, even though they are arguably the best players in the world right now.
Ronaldo
won player of the year 2 years ago and Messi won it last year. Not winning it last year seems to have upset Ronaldo and he appears to be on a mission to reclaim the title. Not that Messi is making it easy, because he's just as brilliant as ever. There are already
numerous videos
comparing the two. I think this summer will show what both are made of. Players can become legends during the World Cup.
4.
Michael Ballack
- 97 League goals between Chelsea, Bayern Munich and Bayern Leverkusen. Leverkusen finished 2nd, 4th and 2nd in the seasons when Ballack was there. They were also Champions League runners up in 01/02. The year after he left they finished 15th. They finished 3rd in 03/04 but otherwise never better than 5th. At Bayern Munich they finished 1st, 2nd, 1st and 1st with Ballack on the team. The year after he left they finished 4th. I know you can't attribute those drop offs to just Ballack, but I think Ballack and his impact are somewhat underrated. I'm not sure if he is always in the conversation for world's best midfielders, but after doing my 10 minutes of research, it made sense to put him on this list.
3.
Frank Lampard
- 93 League goals, 70 assists; 21 Champions League goals, 10 assists; 17 goals in FA Cup. On Chelsea team that won 04/05, and 05/06 Premier League. Also Premier League runners up 03/04; 06/07; 07-08; Champions League runner up 07/08. See below.
2.
Steven Gerrard
- 75 league goals, 64 assists. 32 goals in Champions League, 9 assists. Won Champions League with Liverpool in 04/05 and they were runner up 06/07. Liverpool hasn't won the Premier League with Gerrard; only runner up in 01/02 and 08/09.
I had a hard time with Lampard and Gerrard. This is where the soccer guru would come in handy to really compare the two. Lampard has better stats, but I gave the nod to Gerrard because I think his supporting cast hasn't been as great as Lampard's, and I think that Gerrard has had more clutch moments for his team. Plus, I just like Gerrard and Liverpool better than Lampard and Chelsea. That removes all credibility from my list, but I don't think too many people were considering this list much of an authoritative list anyways. I mean, Figo made the list.
1.
Thierry Henry
- 190 league goals, 94 assists. Premier league top scorer 01/02, 03/04, 04/05, 05/06. 43 Champions League goals, 14 assists. Arsenal hasn't won the league title since he was on the team. He was part of the 03/04 Arsenal team that never lost a game. He scored 30 goals that season. He's like a gazelle. Just glides along the field and has an impressive finish. For a few years there was no better striker in the Premier League. He had a couple down years and most people thought his career was over, but then he resurrected everything in Barcelona. Granted, at Barcelona he has Xavi and Iniesta feeding him the ball and Messi up top with him to help create opportunities, but he is still scoring and proving himself a valuable asset on a stacked team. There have been many great players to play throughout this decade, but when it came down to it, I couldn't think of anyone to put above Henry.
Anyways, that's my list. I'm already realizing how flawed it is and that I'm missing a few players (Eto'o and David Villa) so I should just quit now and call it finished. I realize the list might be off and I'd understand if you want to mock some of my selections, but I still stand by Henry as No. 1. You could talk me out of some of the other players, but in my opinion, there is a legitimate argument for Henry at the top. Who else did I miss?