World Soccer has named
Ronaldinho
the best soccer player of the decade. I'm not quite sure I agree with their selection. They just based it off the total points each player received each year throughout the decade. Although Ronaldinho was dominant and brilliant for the first half of the decade, he was completely useless and couldn't even make the starting 11 for the past couple of years. In another post, I'll provide my player of the decade. In the meantime, I think that World Soccer, myself and the entire world of soccer can agree on one thing: that Ronaldinho is the ugliest player of the decade. Here are the other finalists:
(Quick note:
Frank Ribery
was intentionally left off this list. Although he has teeth that would make any dentist and orthodontist pry their own eyes out, the scarring on his face is from a car accident when he was two. I'm already a bad dude for making this list, but hopefully leaving off Ribery will show some compassion on my part and not entirely punch my ticket to hell.)
Peter Crouch
: Here is why you shouldn't feel bad for any of the people on this list: Peter Crouch is dating
this woman
. I'm not saying she's God's gift to men, but Crouch definitely isn't God's gift to women. The fact remains, that despite the fact that Crouch is like 6'10", weighs about 120 pounds and isn't that good looking, by the sheer fact that he is a professional soccer player in Europe, he can score models. So before you feel bad about any of these people, remember that their soccer skills allow them to score ladies way out of their league.
Didier Drogba
: Sorry Drogba. Blowing us kisses won't get you off this list. Not with that hair. So nappy. Braid it or shave it. It's a steel wool mess.
Dirk Kuyt
: I wish I could take credit for saying he looks like
Sloth
from the movie Goonies, but I read it somewhere else. Not that anyone reading this would have known I was stealing material from another site, but that's no reason to steal from someone else. Have to maintain some integrity, right? Right. Now, on with the ugly people list.
Ronaldo
: Remember when Ronaldo was sporting this hair? Combine that with that amazing gap in his teeth and it will guarantee you a spot on this list.
Wayne Rooney
: I like Rooney. He plays hard and you can tell he works his tail off. Plus, he's almost singlehandedly keeping Manchester United in the title race this year. Unfortunately, he also looks like a troll.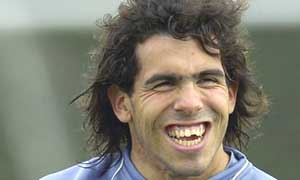 Carlos Tevez
: Before moving to Manchester City last off-season, Tevez played at Manchester United along side Rooney. The two of them were unquestionably the least desirable forward combination in the history of the English Premier League.
Carlos Puyol
: Again with the hair. I realize you are a professional soccer player and not a movie star or model, but your hair looks like a horse mane. For how much you are seen in public and treated like a celebrity in your home country, there is no excuse for hair like this.
And finally,
Ronaldinho
: In his prime he was one of the greatest soccer players ever. Best player of the decade? Potentially. Ugliest? Definitely.
Anyone I missed?