Article also
here
.
Many outlets are reporting
that
Liverpool
has contacted
Ajax
to discuss a bid for striker
Luis Suarez.
Ajax is saying they have yet to receive an actual bid for Suarez, but that doesn't mean there haven't been discussions.
Apparently Suarez is interested in the move, which is good news for Liverpool as they need all the help they can get.
But is Suarez the answer to Liverpool's problems?
Many people are sounding off on Liverpool these days after their woeful start and continued poor play. The only thing that really seems to be consistent in all the analysis is that Liverpool apparently needs help in all areas.
At first it was the coach. Then the coach was replaced. If it wasn't the coach, it was the poor play by Torres. If it wasn't Torres' poor play, it was his lack of support up top. If it wasn't the lack of support, it was the struggling midfield. If not the midfield, then it's the defense that needs replacing.
Every facet of their game has been under fire, but with good reason since they are sitting in 13th place and 12 points out of finishing in the top four.
They are having a terrible season for Liverpool's standards.
So, is Suarez the answer and will he turn things around?
While that question can't really be answered until a transfer is actually made, a
Suarez
acquisition will do two things:
1. It will prove that the ownership is committed to winning and fixing the present situation.
Whatever you may think is Liverpool's greatest weakness at the moment, the bottom line is that they need to make a few changes and not just one.
While Suarez won't fix everything, he's at least a start and shows that the ownership will make transfers to better the team and to win, which is important for the second reason.
2. Suarez will help keep Torres happy.
If Liverpool struggles again and doesn't show signs of improvement by the end of the year, then Torres could be on the first train out of town and headed off to Chelsea, Man City or any other club.
Some critics may be fine with that or say good riddance as Torres has had somewhat of a down year, but he still shows flashes of brilliance and he is still a world-class striker. He is still valuable to Liverpool and it would hurt Liverpool to lose him.
But Torres is in his prime and probably doesn't want to waste it on a non-contender.
Suarez is a legitimate striker and would be an excellent complement for Torres. He proved he can play the supporting striker role this summer with Uruguay. Forlan was the main striker, but Suarez was a solid and legitimate option up top.
At Liverpool, if nothing else, Suarez will take some of the attention and pressure off of Torres. Even if Liverpool finishes in the middle of the table, if Suarez and Torres can find some good chemistry, it may be enough to keep
Torres
at Anfield for another season.
Is Suarez the answer for Liverpool?
No one individual can solve all of
Liverpool
's current problems. But
Luis Suarez
will definitely help and could prevent Liverpool from having even greater problems in the future.
This article is also found
here
.


Real Madrid
announced that
Gonzalo Higuain
would have season ending knee surgery.
He has been sidelined since November, but it was anticipated that he would make his return in the next few weeks. Now, he is out for the season and Real needs to find a replacement.
Higuain has been a huge part of Real's success over the past couple of seasons and his loss creates major issues for the club; even Jose Mourinho has admitted that the Higuain loss will impact the club.
Last season, Higuain led Real Madrid with 27 goals, second most in La Liga. Cristiano Ronaldo finished with 26 goals. There were rumors as to whether the two players got along, but the bottom line was that on the field they were a goal scoring tandem that created nightmares for defenses. Both were very capable of scoring and both attracted attention from defenses.
Clearly Ronaldo is having an amazing season and scoring a ton of goals, but without Higuain, Real has no secondary scoring option. This season, Higuain had seven goals in 12 games. He is still ninth in the league in scoring, despite having only played in 12 games.
The bigger issue, however, is that Higuain is second on the team in scoring. Real has no secondary scoring option. Angel di Maria has been decent, scoring five goals, but he's not a scoring threat like Higauin.
The strong second option may not be necessary for some games in La Liga, but is essential if Real wants to beat Barcelona or advance in the Champions League.
Can Real still win the title without Higuain?
It is, of course, debatable as to whether Real could win the title period since they were recently embarrassed by Barcelona. But without Higuain, Real doesn't have a chance of winning the title.
As mentioned, Higuain was Real's only other scoring threat. Other players can score, but aren't as much of a constant threat as Higuain.
Without Higuain—the other scoring threat—good teams like Barcelona can focus all their attention on Ronaldo. All the attention will likely frustrate Ronaldo as he won't get any good opportunities on goal. As we have seen before, a frustrated Ronaldo doesn't pass the ball and tries to win on his own.
When this happens, Real can't beat teams like Barcelona. With Higuain, Real would have to play some of their best soccer in order to beat Barcelona. Without Higuain, Real can't win, as defenses can focus almost entirely on Ronaldo.
Likely Replacements?
So who will fill the shoes and take over for Higuain? Here are the possible options:
1. Karim Benzema
This would be the ideal replacement as he is already a member of the team.
However, Benzema has been a disappointment during his entire tenure with Madrid. The team had high hopes for him, but he has failed to perform.
When he was initially brought in last season, it was anticipated that he would win the starting job from Higuain. Instead, Higuain proved that he was the better striker and had his best season.
Now that Higuain is injured, Benzema has had yet another opportunity to impress the club.
With just one goal this season, he is failing to impress anyone.
2. Emmanuel Adebayor
Adebayor surely wants this move to happen, as he is no longer in good graces at Manchester City and rarely sees any playing time.
There have been issues between Adebayor and the club management. This wouldn't be as big of an issue at Madrid, as managing egos has never been a problem for Mourinho since he has the biggest ego of anyone.
The bigger issue is whether Mourinho believes that Adebayor can still play and contribute to the club.
Real needs immediate help and it's uncertain if Adebayor could provide immediate help, as he is likely out of form with his lack of playing time.
3. Miroslav Klose
There are already rumors brewing about Real picking up Klose. This transfer seems to make the most sense to replace Higuain.
Klose is a little older than other players, but he is a proven scorer. Real doesn't need someone to create plays or make the runs through the midfield—they just need a smart striker that knows where to be and how to finish when given the opportunity.
Klose fits this description.
Other options?
Surely now that the club has announced that Higauin is out there will be many rumors of possible replacements.
Real has never been afraid to make moves and will likely do whatever is necessary to get the players they need.
Which is good because if they want any chance of winning the title, some sort of move is necessary.
I'm a fickle fan. When I first started paying way too much attention to European soccer five years ago, thanks in large measure to my passionate dislike of my job at that time, I committed myself to Fulham Football Club. The team had a veritable truckload of Americans on the team with Kasey Keller in goal, Brian McBride as striker and captain, along with new recruit, Clint Dempsey. The team also picked up Eddie Johnson, who promptly lost any semblance of ability and was loaned out to a team in Wales. Around that same time period, Liverpool dropped off a wheelbarrow of cash in Madrid to sign Fernando Torres. I had been a big fan of El Nino since the 2006 World Cup where he scored an awesome goal or two. Suddenly I was torn. My favorite player or my newly picked team?
Another thing happened at the same time. I was introduced to the world of Jose Mourinho. The Special One is no ordinary manager. He is manager's manager. If Chuck Norris had a teacher, it would be Jose Mourinho. Mourinho is a master of the press and a master of mind games. He manages players brilliantly. He earned the respect of Sir Alex Ferguson, longtime manager at Manchester United. Mourniho demanded your attention and you either love him or hate him. He took a small Portuguese club to the pinnacle of European Club Soccer (losing Tim Howard his job as ManU keeper in the process), went to Chelsea FC and led them to the top of the Premier League, and then went to Internazionale and won the Champion's League again. Now he is at Real Madrid and you know what? I finally really care about Real Madrid. Kent is a massive fan and I always wanted to care about the team, but felt like a Yankee's bandwagoner because Madrid is soccer's most expensive team. Now, with Mourinho leading the club, I want them to win. I'm suddenly a fan.
So, back to my fickle fandom. I've realized that the drama and personalities are what makes the game so intriguing. It is really this way in every sport (think NFL and Brett Favre -- we're obsessed with a 40 year old washed up QB!) but it is especially true for me and soccer. I don't have a true team to obsess over because I don't live in Europe so I adopt personalities and drama. I love the underdog story and the outsized personalities. It's what makes the game interesting. So, I'll continue to be fickle. I'll pull for Fulham, but pay more attention to Torres. I'll check the score of the Fulham game as I relish another insane Spurs game (what an insane team! Does Harry Redknapp actually do anything?) I'l feel a bit guilty, but I'll enjoy it.
Real Madrid beat AJ Auxerre in their Tuesday Champions League match in their now typical 2010 fashion. Lots of possession, some opportunities and very few goals.
Madrid possessed the ball for 70% of the game and had 19 shots compared to Auxerre's 9 shots. Yet anyone that watched the game could tell you that even though Madrid had a lot of possession and shots, they had very few great opportunities.
Granted, Gonzalo Higuain did have a great opportunity in the first half where his shot was blocked by a defender on the line. There were other good moments as well, but you have to expect more out of a team that possesses the ball for 70% of the game and has so many talented players.
It also wouldn't be as big of an issue if this was an isolated incident or one time event. But Real Madrid's lack of scoring production has been an issue and their main cause of concern thus far all season.
Jose Mourinho finally expressed his concerns and feelings about the lack of goals after Real Madrid was unable to score last week against lowly Levante in their La Liga match-up. In speaking about that game Mourinho said:
"We created so many chances, some very good, and obviously I'm worried because you need to score to win. Every point counts, but for us every game we play is one we have to win. So these are two points less than we could have. We're not happy about earning only one point because we must win every match.''
In preparation for the Champions League match against AJ Auxerre Mourinho tried to mix things up and went with Karim Benzema as a starter hoping that he would produce a spark.
Unfortunately for Benzema he looked somewhat lost for much of the game. Not sure if it's his youth or lack of playing time, but he's never seemed to gel or be on the same page with Higuain or the other players. He wasn't terrible last night, but didn't quite produce the spark Mourinho was probably hoping for.
Not that the other players were much better. All the players seem to struggle when they get in and around the box. There are opportunities, but most chances seem to end with a bad pass or Ronaldo getting frustrated and blasting a shot from outside the 18 yard box.
Despite the lack of scoring concerns, there are plenty of bright spots thus far for Real:
1. The defense is much better.
Probably a result of the return of Pepe and shifting Sergio Ramos to play central defense with Pepe. Last year Iker Casillas had to make 2-3 amazing saves a game to make up for Real's faulty defense. This year has been very different.
2. They have a loaded roster.
Madrid isn't like Liverpool or other teams that are struggling and don't have options or solutions. They have players, the just need to find the right combination. Kaka will return soon and he might help. Ozil, although he didn't start last night, has been amazing thus far for the team. He has created numerous opportunities for the forwards. Once he can get on the same page with Ronaldo and Higuain, the scoring flood gates could burst open.
3. They have Jose Mourinho.
He doesn't call himself The Great One for no reason. If anyone can figure out the right combination of players and control all the egos on the roster and get everyone on the same page, it's Mourinho. He's done it multiple times before, no reason to think he won't be able to do it with this talented squad.
Yet the scoring is a concern. Mainly because it needs to get resolved soon. Madrid can get by with one goal against opponents like Auxerre and it can even afford a tie to Levante only because La Liga is pretty weak this year.
But Madrid doesn't spend the money to beat Auxerre and do well in La Liga.
Madrid spends money and brings in Mourinho to win the Champions League and beat Barcelona and win La Liga.
One goal might get you a victory against Auxerre, but it likely won't be enough against Inter, Chelsea, Man U or Barcelona in the knock out stages of the Champions League or El Clasico.
Especially since none of these teams fear Madrid.
Surely they all respect Madrid and the players on the roster. But Madrid has been eliminated from the Champions League in the round of 16 five years in a row. Barcelona has won La Liga the past two years. Teams know that Madrid is a tough opponent, but not unbeatable.
Madrid been a lot of bark and hype, but no bite and results. Hopefully that changes soon. Otherwise, despite the many changes, they will be the same dog as always.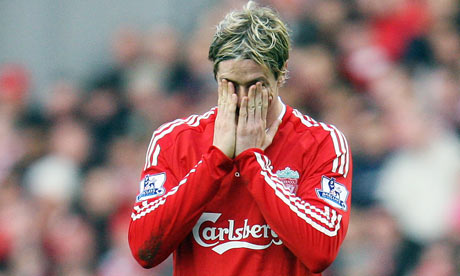 Liverpool
suffered yet another draw this weekend. In six games they have three ties, two losses and only one win. Not the most impressive start.
But with yet another tie to
Sunderland
on Saturday, one has to wonder if Liverpool actually has what it takes to win this season. Only six games in and it may not be too early to write them off.
Normally with most teams, especially a team like Liverpool with a strong history of winning, you could just say that it's early in the season and they are just off to a slow start.
You could also argue that they have had a tough first six games already having played three of the top four clubs in the Premier League - Arsenal, Manchester United and Manchester City. However, they didn't exactly fare well in those three games having lost to both Manchester clubs and pulling off a draw against Arsenal. Not exactly an impressive record if Liverpool plans on overcoming these teams and competing for the title.
A record against those clubs also wouldn't be as big of a deal if Liverpool was winning their other games. Instead they are struggling to pull off a tie against Sunderland.
Which is why it already begs the question of whether Liverpool can legitimately compete for a title this season or even have a realistic chance of finishing in the top four?
A big reason to already question the team and the season is the turmoil within the club ownership. The ownership problems are by no means a new issue. The team is facing serious debt and the owners, Tom Hicks and George Gillett, are unable to obtain loans or credits from major banks.
Fans are upset at the owners and it appears to be reaching a boiling point evidenced by the fact that the
fans staged a sit-in protest
after the Sunderland game.
Granted, Liverpool isn't the only team facing financial problems and isn't the only team with an owner the fans don't like. But the difference with Liverpool is that these issues seem to be impacting the play on the field.
Fernando Torres
appears to be increasingly agitated on the field. He was injured over the summer and coming back from an injury can be frustrating. He may just be upset at his own performance and that he isn't performing as well as he would like. But he also appears to be frustrated with his lack of support on the field. He is often left to roam up top alone and many times his only option is to try and take on two or three defenders on his own.
There are also issues with the midfield.
Steven Gerrard
is always solid and plays his heart out, but even he is aging. The acquisition of
Joe Cole
was a good step, but it's still not enough for Liverpool's midfield to compete with that of the other top clubs.
Perhaps the poor play on the field and the frustration has nothing to do with the ownership. Maybe it's just due to a lack of fitness or Roy Hodgson not finding the right 11 with the best chemistry yet.
But whatever the issue, it has to be resolved with the current squad as the club isn't in a financial situation to be able to acquire other players. Thus, if the players really don't believe the current squad can compete for a title, their frustration will only grow with each loss or tie as they know things won't get better.
Whatever the issue, based upon the first six games though, something is lacking. Hopefully the issue can be resolved with the current personnel because if it can't, you might as well write off this season as it doesn't appear the club will be getting new owners or players in the near future.
As it stands right now, Liverpool is in 15th place. They are already facing a difficult uphill battle.
They need a spark. Hopefully they find it soon. If not, six games into the season might not be too soon to write them off for the year.
Note: This is a variation on a previous post about Raul. This article is also published on Bleacher Report. You can head over there as well if you want to read it.
Cristiano Ronaldo is the new leader at Real Madrid. Although Iker Casillas has taken the captain armband, Ronaldo assumed the on-field leadership position by taking the # 7 jersey after Raul's departure. But is he deserving and ready to lead the team?

This last decade for Real Madrid has been a generation aptly called The Galacticos - The Superstars. The team has a simple business model: buy all of the best players in the world. They seem to operate on the flawed logic that if their roster has all of the best players in the world, then their team must be the best in the world. Other teams, like Barcelona or Arsenal, look more to develop talent, build team chemistry and find the right players for their needs.
The galacticos era essentially started in 2000 when Real Madrid bought Luis Figo from Barcelona. The transfer caused quite the stir and controversy, but was just the beginning. The following season the great Zidane joined. He was soon followed by Ronaldo, David Beckham, Michael Owen, Ruud Van Nistelroy and many others.
Yet despite the world class talent possessed by all of these players, Madrid became and has since been a revolving door. No matter how great a player was or how much money Real paid to purchase the player, any player was pushed aside to make room for the next big signing. These great and fabled players were headlines one day and afterthoughts the next.

Notoriously and most recently, Arjen Robben and Wesley Sneijder, two dutch superstars were shown the door before the 2009 season in order to make room for more the newest galacticos - Kaka, C. Ronaldo, Xabi Alonso and Karim Benzema (who sat the bench most of the season). Fittingly for the karma gods and all non-Real fans, Robben and Sneijder led their new teams, Bayern Munich and Inter Milan respectively, to the Champions League final.

Amidst all the constant changes and chaos that has been Real Madrid for the past decade, there has been one constant: Raul Gonzalez Blanco. He was the lodestar of the galacticos. Raul came up through the Real Madrid youth system and by the end of his tenure he had the most goals of any player in Real Madrid history.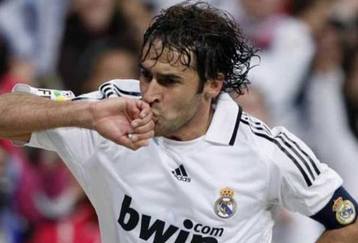 Ronaldo is practically the antithesis of Raul. Raul was not so much the flashy or skilled forward with a blistering shot. Raul was more of the forward that is constantly in the right position at the right time. Ronaldo is always flashy. He never passes the ball without first doing at least one step over. He also has one of the hardest shots and has produced some of the greatest long range goals in history.
Raul has never been red carded his entire career. Ronaldo was red carded twice last season alone.
Raul has five children all from one wife. He kisses his wedding ring after every goal he scores. Ronaldo's female conquests are almost legendary as his soccer play. It's unclear if he even remembers who is current girlfriend is after each goal.
Granted, personal life doesn't really have any bearing on whether a person can be a leader on the field. But Raul's demeanor on and off the field is what made him such a good leader. Raul understood that soccer isn't about individuals but about a team coming together to make beautiful music. He had to understand this as he couldn't do it on his own. For a team that was a revolving door, he was the one constant. He helped keep the many individuals grounded and playing for the name on the front of their jersey and not on the back.
It's easy to question Ronaldo's leadership as he comes across as anything but constant and committed. Even though he signed a massive contract last season, he still doesn't appear very committed to the club. This is likely because he usually displays a "me first" attitude and style of play and often tries to win on his own.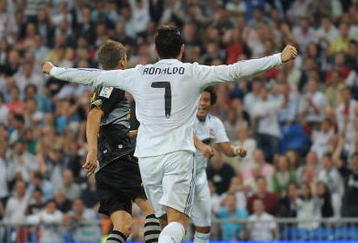 Denis Doyle/Getty Images
Phil Ball observed the same when describing Real Madrid's comeback win against lowly Real Sociedad last week.
"Ronaldo, as he so often does when the going gets tough, took on the role of unilateral saviour, assuming that he could solve it all on his own. Poor Gonzalo Higuian spent most of the match watching forlornly at his team-mate ignoring all petitions for a pass and blasting most of his shots into the night sky. Ronaldo is unquestionably brilliant, but often allows his ego to get in the way of any tactical intelligence he might possess."
Like it or not, Raul is gone and the reins have been handed over to Ronaldo. Kaka was the only other option to assume the role but he mysteriously fell into a black hole and no one has heard from him since he came to Madrid. So Real Madrid is Ronaldo's team. No one questions that Ronaldo is a quintessential galactico and fits with business model. But Barcelona is better than ever and Real has faltered in the Champions League over the past six seasons. Real also has Mesut Ozil, Xabi Alonso, Gonzalo Higuian and a crop of other talent to compete for La Liga and Champions League titles. The only question is whether the Ronaldo will be another lodestar like Raul and guide the team to glory; or if he will insist on being a Super Nova, stealing the spotlight and eventually flaming out while he destroys the rest of the team.

Real Madrid drew Ajax for their first match in the group stages of the Champions League. They were clinical in their 2-0 victory over Ajax, as shown in the video below. The best part about this video is the interview after the game with The Special One, Jose Mourinho. His presence at Real Madrid makes up for all of the bad signings they've made over the past few years and should give Real fans hope that they get past the first round of the knock-out stage (I'm realizing that there is a lot of insider lingo when it comes to the Champions League so I'll start working on a Beginner's Guide to the Champions League). The man has more charisma than Barack Obama during campaign season.

After watching Real play a few questions come to mind.

1. What are they going to do with Kaka? Ozil, the German International who signed with Real over the summer, is younger, better, and cheaper than Kaka. Kaka seems like the odd man out.

2. Cristiano Ronaldo is lacking that killer instinct that he displayed at Manchester United right now. I'm reminded of David Beckham's transition from soccer player to global icon. The transition made Beckham a fortune but he wasn't quite the same great player that ran the sidelines at Old Trafford for United after he went to the darkside.

3. It's great that Jose acknowledges the fierce loyalty of Liverpool fans. Even when Liverpool was losing at home 4-0 to Chelsea, they continued to sing their support of their team.


Posted by kent
Posted on 11:50 AM with 1 comment
Newly promoted
Hercules
made their mark on
La Liga
this past weekend by going to the Camp Nou and beating the almighty and all powerful
Barcelona
2-0.
Quick note:
the promotion/relegation system that they do in the European soccer leagues is the greatest sport invention ever. Here's how it works: In Spain for example, they have various soccer leagues. At the end of each season the bottom three teams in each league are relegated to the league below them and the top three teams are promoted to the league above. So last year the bottom three from the Primera Division -
Valladolid
,
Tenerife
and
Xerez
- were sent down to the Segunda Division while the top three finishers from the Segunda Division -
Real Sociedad
,
Hercules
and
Levante
- were promoted to the Primera Division for the following season. It's just genius. It's an incentive for each team to play hard throughout the season. No more tanking it at the end of the season. No more getting rewarded for losing by getting a high lottery or draft pick. If you lose, then you get relegated which means lower revenue and ticket sales because you are playing lesser competition. Losers don't win and get rewards like they do in the NBA, MLB or other sports.
You know where this system would be great? College Football. I hate the
BCS
as much as the next guy, but one way to fix it and settle the debate of whether the Boise State's and the TCU's of the world can play a full season in the Big 10 or SEC would be to promote them to the BCS conferences. Each year they should send the top three teams from the WAC, Mountain West, Conf-USA and the other non-BCS conferences to one of the BCS conferences and send the bottom three teams to non-BCS conferences. Those teams deserve to get relegated anyways. Washington State and Vanderbilt didn't even win a conference game last year. Maybe Boise State wouldn't run the table in the Pac-10 or the SEC, but they would at least win a couple games and do a whole lot better than Washington State and Vanderbilt do each year.
Sorry, I digressed a bit there. Just trying to show that Fútbol is once again superior to Football as Fútbol has a better system in place. Back to
Hercules
.
Some people
were already anointing
Barcelona
as champions after only one week and saying ridiculous things like they shouldn't even play bother to play out the season as Barcelona will clearly win it all. Somebody is eating their cyber words. Not really actually. I don't think this changes anything. I don't want to take anything away from the win. It's impressive. But Barcelona has too many weapons and is still too good and they will run away with the league this year. To reassert their dominance they came out and beat Panathinaikos 5-1 in the Champions League yesterday.
Regardless, a 2-0 win at Barcelona is something Real Madrid can't even do and something only 1 or 2 other clubs will do all season. Is Hercules here to stay? Who knows, but they at least deserve a brief spotlight:
Name
: Hercules Club de Fútbol
Location
: Alicante, Spain.
Nicknames
: Herculanos and Blanquiazules. Herculanos (Herculeans) by the way, is an awesome nickname. Almost as awesome as their club logo.
Although, their logo designer must have been fired or something because check out this year's away jersey:
Mother of Zeus those things are hideous. Even Hades can't stand them (I'm here all night).
Their home jersey is much better.
I particularly like that they are sponsored by
Ciudad de la Luz
. Apparently that is a film studio in Alicante. Pretty awesome sponsor. I also like that their jerseys are made by Kelme. A great soccer brand that you don't see that often. Lots to like about the Herculeans.
Players
: Not too many household names on the Herculean squad.
They do have
Nelson Valdez
. Apparently he's good or something. He scored the two goals against Barcelona. He's got some great hair. I wouldn't expect anything less from a Paraguayan (not sure what that means exactly).
They also have
Royston Drenthe
. Not exactly a household name but he did play for Real Madrid. Yet another martyr to their system. He played some his first year on the squad, sat the bench the second year and transferred out the third. Vaya Madrid!
So there you have it. Some basics on the
Herculanos
. Not too much info but probably 100% more than what you already knew. Hopefully they have continued success and maybe even beat Barcelona again later in the season. It's possible, but probably safer to hope they don't lose by more than 5 goals.
Here are the highlights from the game:
England
played its first
Euro 2012
qualifier this weekend. They easily handled Bulgaria and won 4-0. While it was a good victory for England, I feel like it was an undeserved second chance for their coach,
Fabio Capello
. England went with a different lineup from what they used two months ago in the World Cup. Here are the starting 11 from their first game at the World Cup:
Robert Green (G)
John Terry (D)
Ledley King (D)
Ashley Cole (D)
Glen Johnson (D)
Steven Gerrard (M)
Frank Lampard (M)
James Milner (M)
Aaron Lennon (M)
Wayne Rooney (F)
Emile Heskey (F)
And here are the starting 11 from the qualifier on Saturday:
Joe Hart (G)
Phil Jagielka (D)
Ashley Cole (D)
Michael Dawson (D)
Glen Johnson (D)
Steven Gerrard (M)
Gareth Barry (M)
James Milner (M)
Theo Walcott (M)
Jermain Defoe (F)
Wayne Rooney (F)
There are quite a few changes. Granted, there were many changes even during the World Cup. England had an all around poor showing at the World Cup and few players were solid throughout the tournament, so changes were necessary.
Jermain Defoe
didn't get the starting nod at the beginning of the tournament, but he was starting by the end of the tournament. Why he didn't start in the first place was puzzling considering he had such an amazing season prior to the World Cup. Tottenham qualified for the Champions League for the first time ever and that was largely due to Defoe. He was their offense last season. I guess no one could have foreseen that Wayne Rooney would be completely absent during the World Cup and Capello probably expected more scoring from Rooney, but still, you have to start Defoe after how great he had played. Defoe started yesterday's game and finished with a hatrick. He's a scoring machine. This isn't a new revelation either.
Not starting Defoe was bad, but the failure to play
Joe Hart
was a catastrophe, especially since goalkeeping woes plagued England throughout the Cup. Joe Hart has been simply amazing this season. Granted, there have only been three league games, but he has risen to the occasion in each of the games. His
debut game for Man City
against Tottenham was one of the greatest goalkeeping performances I have ever seen. He was bombarded with shots and came up big each and every time. Even yesterday in the game against Bulgaria he had a couple of huge saves. He completely changes the England squad. The players have confidence in their goalie and don't consider themselves as much of a liability defensively and it changes the entire mentality and course of the game.
But here's why I think that this is somewhat of an undeserved chance for Capello: yesterday's game wasn't 4 years after the World Cup where some players have changed and others have developed and different players are available. The World Cup was two months ago. So any player or any combination of players that are being used now were available two months ago. But Capello didn't find or use that combination even though it was at his disposal, which is somewhat inexcusable considering it's the World Cup. He used the World Cup as his experimental stage or try outs and now seems to have figured things out…in time for the Euro 2012 qualifiers? It like a band getting the chance to open for U2 and playing their B-sides and then busting out all their great stuff a few weeks later when they are playing at local clubs and dive bars. Seems a little backwards.
And it may be a little harsh to hold Capello to such a high standard and scrutiny, but he's getting paid millions and the World Cup only happens once every four years. If he could try again in six months and he wasn't getting so much money I would give him a pass. But for what they are paying him (more than any other national team coach in the world), the expectations are higher and the room for error is smaller, especially since he is proving that his errors could have been corrected since he has apparently corrected those errors only two months after the tournament.
I actually like Capello. He had a great run at Real Madrid and improbably controlled all the egos and led them to a league title. I think he is a good coach and I thought he should have been given more time with Madrid and not run out of town for the next big coach. He must have kept that second chance token he should have received from Madrid and he's now cashing it in with England. He was gracefully given another chance and seems to be finally getting it right, just in time for the local club and dive bar tour.
Posted by kent
Posted on 9:18 AM with 1 comment
While there is plenty of football this weekend there isn't much futbol happening overseas as all of the leagues have the weekend off so the national teams can play in their Euro 2012 qualifiers. Hopefully France will provide some fun drama over the weekend so there is something to talk about.
In the meantime, here is a video
my friend
sent me from
kottke.org
. Kottke was providing the video and a recap from a
wired article
. So it's traveling from an article to a website to a blog and now to you. It's simply amazing. The video that is. I can't believe these people are playing blind and/or blindfolded.
Enjoy.
Of all the many storylines and issues from the World Cup this past summer, two stand out: 1. Instant Replay and 2. the Vuvuzelas. Many English Premier Teams have already banned vuvuzelas, but
UEFA came out today
and banned them from their tournaments - the European Championship and the Champions League.
This isn't surprising for a couple of reasons:
1. Vuvuzelas are as annoying as a mosquito flying into your eardrum, laying eggs and harvesting a community of mosquitoes in your ear.
2. The Euros love hearing themselves sing. That's why they listen to so much techno. They prefer music with beats and sounds. If they want vocals, they add it themselves.
The combination of an annoying sound that drowns out their singing makes for a fatal instrument. So the ban wasn't too surprising.
But the best part about the ban was the way the president phrased the reasoning and justification for the ban.


"In the specific context of South Africa, the vuvuzela adds a touch of local flavor and folklore."
That's a very diplomatic statement. It's almost as though he is saying that the vuvuzela contributes to the atmosphere of the game, well, as long as that game is in South Africa. But he makes it sound like they actually liked the vuvuzela. Like they really believe it contributed to the World Cup experience. But that's totally false because only deaf people and teenagers would think it contributed to the experience. And, if it did contribute, a ban probably wouldn't be necessary.
The president continued:
"The magic of football consists of the two-way exchange of emotions between the pitch and the stands, where the public can transmit a full range of feelings to the players...


"UEFA is of the view that the vuvuzelas would completely change the atmosphere, drowning supporter emotions and detracting from the experience of the game."
So in South Africa there was no magic? The vuvuzelas drowned out the emotions and changed the atmosphere so football lost the two-way exchange and thus the magic, right? But I thought he just said that it contributed to the game.
I'm actually all for the ban. I think those things are terrible. It's just entertaining to read the UEFA representative try and dance around the subject and not offend anyone. Who is he concerned about offending? He clearly hates the things and so do all the fans. There doesn't seem to be much of an uproar in Europe over this. He shouldn't have tried to appease the very small minority that likes the vuvuzela. These people don't care about you or your opinion. If they did, they wouldn't stand behind you and blow into an instrument that destroys your eardrum. The UEFA president should have just said: "Look, drunk British men may not always be on key with their singing, but at least they won't destroy your eardrums. Plus, I am concerned if we allow vuvuzelas there will be rioting in the stadiums and public stonings. I hate them, you hate them. They are annoying and they destroy the game. Banned."
Regardless of how he went about it, the end result is the same, no more vuvuzelas. This was the easy issue though. Now on to instant replay...