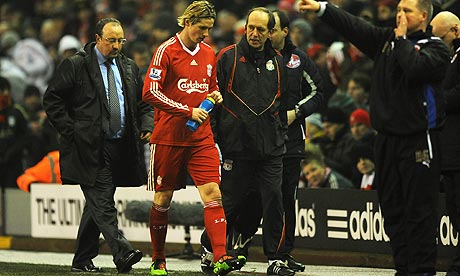 In last week's FA Cup game against Reading,
Fernando Torres
injured or re-aggravated his groin. Whatever he did to it, he is sidelined for 6 weeks. It's a tough loss for
Liverpool
and I see their season going one of two ways:
1. The team plays better without Torres, rallys together because they know their backs are against the wall and they can't depend on their star players, they string together some lucky victories and get some breaks and actually move up in the standings over the next 6 weeks. Torres comes back, regains his form,
brings sexy back
and Liverpool somehow lands in the top 4 when all is said and done at the end of the season.
OR, and in my opinion more likely:
2. This is the knock-out blow. Liverpool slides in the standings without Torres and Steven Gerrard (also injured). Once Torres realizes the season is lost, he turns his focus to the World Cup. With Liverpool out of contention and Spain a legit contender, if not favorite, to win this summer, he never really comes back because he doesn't want to aggravate his injury prior to the World Cup this summer. 6 weeks turns into 8 or 9...or 12. In the meantime, things go from bad to worse for Liverpool. They don't finish in the top 4, Benitez gets fired, Torres and Gerrard flee over the summer for contenders and the city catches on fire. It might not be that bad. The city probably won't catch on fire.
I love Torres and would love to see Liverpool regain their form and finish at the top of the table. And even though that is possible, I just don't see it happening. Is this the beginning of the end? I hope not...but think so.