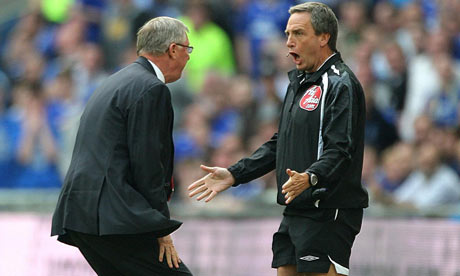 As mentioned in the previous post,
Manchester United
lost in the
Champions League
to
Bayern Munich
. As expected, Manchester's coach, Sir Alex Ferguson came out today with some nice 'gems' about the game. From
ESPN
:
"Ferguson was furious about the manner in which the Bayern players had put pressure on the referee to show Rafael a second yellow card after tugging back Franck Ribery.
"The young boy showed a bit of inexperience, but they got him sent off, everyone sprinted towards the referee - typical Germans," [Ferguson] said. "They were never getting through that tie. With 11 men, we had no problem."
Fantastic comment. Typical Germans? What does that even mean? Only Germans yell at refs when there is a foul and try and get the ref to make a call in their favor? I suppose that makes sense. I mean, its not like Manchester United players ever argue with the refs. It's also interesting that he says that this behavior of complaining about the refs is typical of Germans yet in the process of saying Germans complain about refs, he too was complaining about the poor calls made by the refs. But Ferguson is Scottish, not German. And this isn't the first time he's complained about the officiating. Someone should tell him to retract his comment to say, "typical Germans, and Scottish." Then it would be a little more accurate. We don't want Sir Alex to look like a fool with his comments.

Seriously though, I have no problems with a coach being upset at some of the calls that happened during the game. I understand that calls can influence a game. But when your team gives up a two goal advantage at home, and your best player, who is also arguably the best player in the league right now, had to sit out the entire second half because of a busted ankle, then maybe it was your team, and not the "typical Germans" that are responsible for the loss. Just a thought. Not that you need to go out and blame it on your players, but perhaps a little perspective could improve your comments and thus prevent snide remarks from the bored bloggers.