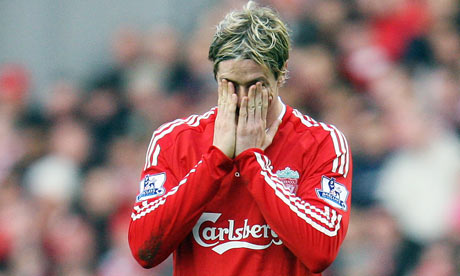 Liverpool
suffered yet another draw this weekend. In six games they have three ties, two losses and only one win. Not the most impressive start.
But with yet another tie to
Sunderland
on Saturday, one has to wonder if Liverpool actually has what it takes to win this season. Only six games in and it may not be too early to write them off.
Normally with most teams, especially a team like Liverpool with a strong history of winning, you could just say that it's early in the season and they are just off to a slow start.
You could also argue that they have had a tough first six games already having played three of the top four clubs in the Premier League - Arsenal, Manchester United and Manchester City. However, they didn't exactly fare well in those three games having lost to both Manchester clubs and pulling off a draw against Arsenal. Not exactly an impressive record if Liverpool plans on overcoming these teams and competing for the title.
A record against those clubs also wouldn't be as big of a deal if Liverpool was winning their other games. Instead they are struggling to pull off a tie against Sunderland.
Which is why it already begs the question of whether Liverpool can legitimately compete for a title this season or even have a realistic chance of finishing in the top four?
A big reason to already question the team and the season is the turmoil within the club ownership. The ownership problems are by no means a new issue. The team is facing serious debt and the owners, Tom Hicks and George Gillett, are unable to obtain loans or credits from major banks.
Fans are upset at the owners and it appears to be reaching a boiling point evidenced by the fact that the
fans staged a sit-in protest
after the Sunderland game.
Granted, Liverpool isn't the only team facing financial problems and isn't the only team with an owner the fans don't like. But the difference with Liverpool is that these issues seem to be impacting the play on the field.
Fernando Torres
appears to be increasingly agitated on the field. He was injured over the summer and coming back from an injury can be frustrating. He may just be upset at his own performance and that he isn't performing as well as he would like. But he also appears to be frustrated with his lack of support on the field. He is often left to roam up top alone and many times his only option is to try and take on two or three defenders on his own.
There are also issues with the midfield.
Steven Gerrard
is always solid and plays his heart out, but even he is aging. The acquisition of
Joe Cole
was a good step, but it's still not enough for Liverpool's midfield to compete with that of the other top clubs.
Perhaps the poor play on the field and the frustration has nothing to do with the ownership. Maybe it's just due to a lack of fitness or Roy Hodgson not finding the right 11 with the best chemistry yet.
But whatever the issue, it has to be resolved with the current squad as the club isn't in a financial situation to be able to acquire other players. Thus, if the players really don't believe the current squad can compete for a title, their frustration will only grow with each loss or tie as they know things won't get better.
Whatever the issue, based upon the first six games though, something is lacking. Hopefully the issue can be resolved with the current personnel because if it can't, you might as well write off this season as it doesn't appear the club will be getting new owners or players in the near future.
As it stands right now, Liverpool is in 15th place. They are already facing a difficult uphill battle.
They need a spark. Hopefully they find it soon. If not, six games into the season might not be too soon to write them off for the year.