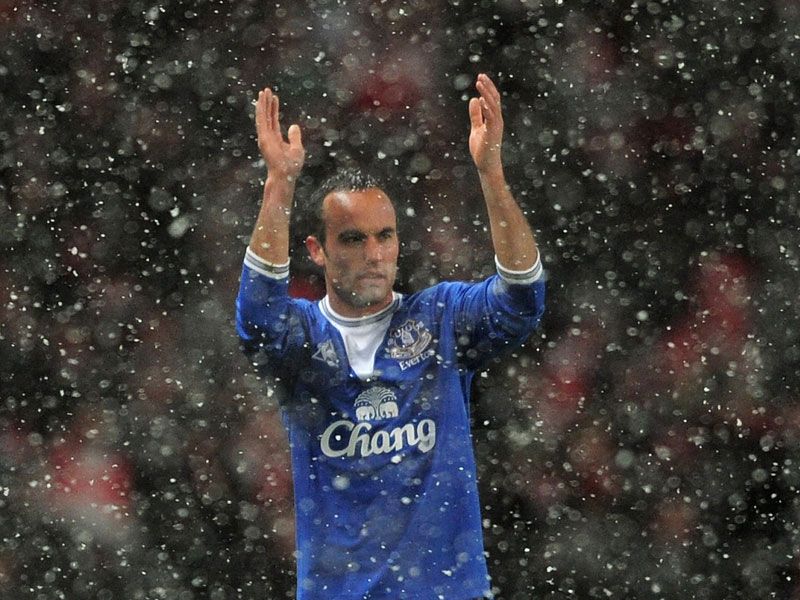 Well, whether you like the name of our award or not,
Landon Donovan
was
yet again
the best American player last weekend and gets our Weekly Salute for his service overseas. Not that he had much competition.
Tim Howard
is really the only player that you could argue deserved it over Donovan, but he wasn't really challenged in goal (more on this in a bit).
Donovan didn't have an assist like last week or have any direct involvement in any of Everton's 2 goals, but he had a great game. You really needed to see the entire game to appreciate how well Donovan did. Not the greatest player on the field, but definitely proving that he deserves to start and can compete with the best talent in England. Donovan played so well that the Everton coach intentionally subbed him in the 90th minute so that the fans could show their appreciation for his performance and cheer him as he came off the field. The reception was so good that Donovan is already considering extending his stay with Everton to the end of the Premier League season (May) instead of the start of the MLS season (March). Speaking of the fans, after the game Donovan said:
"I've been made to feel so welcome and when you're welcome like that you don't want to let anyone down," he told the
Liverpool Echo
. It's a sharp contrast to how I felt last year when I was at Munich...
"The atmosphere [at Everton] completely surpassed what I thought, he said. "I guessed if we scored a few goals or were winning they'd be loud, but it was from minute one. They really push you on."
First of all: I'm really curious about his German experience. I still don't understand how it was so bad that he was completely turned off to the idea of playing soccer in Europe.
Second: How did he not know that English fans were this loyal and dedicated to their players? I've never been to a game in England, but I've been to one in Spain and seen a host of games on TV. Even I know that English soccer fans are insanely loyal to their team and that they cheer for their players all game long. Did he really not know this? Did he think that the crowds were the same as the MLS? Doesn't every casual fan of soccer know that the English crowds are this committed? Isn't that half the reason people want to become professional soccer players? To get paid millions, date supermodels and be literally worshiped by the fans?
Anyways,
I may never quite understand
Landon Donovan
, but I am happy to see him playing extremely well and hope that he continues to play at such a high level during the World Cup.
As far as the other team on the field Saturday,
Manchester City
looked terrible. Everton was playing some of their best soccer of the season, but Man City looked lost for most of the game. It wasn't a good sign when Roque Santa Cruz went down with injury and is
out for a month
. Robinho came on as his replacement, but his performance was so uninspiring that Roberto Mancini (Man City's coach) subbed out Robinho before the end of the game. A team only gets three subs a game so it's rare that a coach will use a sub on a player that already subbed in. But considering Robinho was invisible for most of the game, bringing on any warm body was an upgrade. No need to worry about Man City though, they recently purchased Patrick Vieira. Despite being in his mid-30s and unable to crack the starting 11 on his previous team, he is the perfect powerhouse to fix Man City's offensive problems (I wish sarcasm was easier in writing).
Anyways, I know the second half of the season just started, but if Man City wants to finish in the top 4, they have to look a lot better than they did last weekend. They got blitzed and overwhelmed by Everton and never really threatened. There is still a lot of soccer yet to be played, but they are on the outside looking in right now and don't have too much room for error.